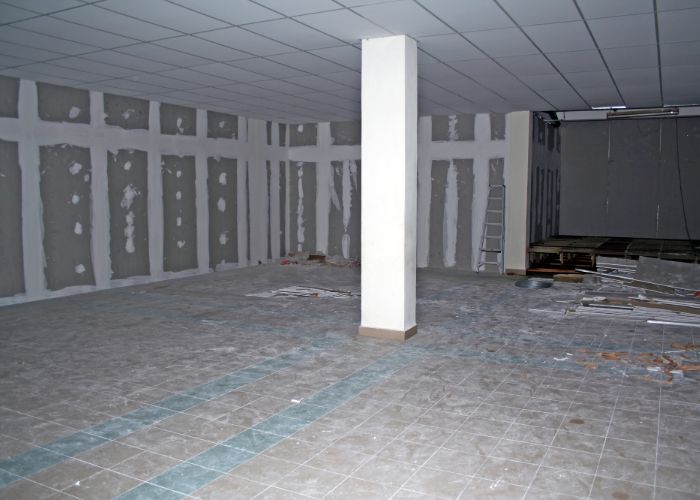 Do you have an unfinished basement that's just sitting there collecting dust and clutter? With some DIY know-how and elbow grease, that unused space has the potential to become a gorgeous finished basement with valuable extra living area. Whether you want to add a rec room, bedroom, office, gym, or something else, a basement transformation may be easier than you think.
In this DIY guide, we'll walk you through the major steps to finishing a basement from start to finish. We'll cover essential tasks like framing walls, insulating, installing drywall, adding lighting and HVAC, flooring, building closets, bathrooms, and more. You don't need prior construction experience to finish your own basement - just good planning, the right materials, patience, and a willingness to learn hands-on.
Follow along as we break down each phase of a basement build, from demolition to the fun finishes. We'll provide tips to help you create the basement of your dreams affordably using your own DIY skills. Let's go from drab to fab and unlock the full potential of your basement!
Assess Your Basement's Condition
Before starting any basement finishing project, it's important to thoroughly assess the current condition of your basement. Look for any signs of moisture, mold, or mildew. Check if there are any cracks in the walls or floors that need to be repaired. Ensure the basement is properly waterproofed and address any drainage issues. Taking care of these problems first will help create a healthy, livable space.
Steps to Finishing a Basement Include Creating a Layout
Once you've prepped your basement, it's time to map out how you want to use the space. Consider what rooms you want—a rec room, bedroom, bathroom, workshop? Make sure to account for elements like stairs, support beams, electrical panels, appliance hookups, and ventilation. Sketch ideas on graph paper to experiment with different layouts. Plan where you want walls, doors, and windows. Knowing your layout ahead of time allows for efficient finishing.
Frame New Walls
Framing is one of the biggest projects of basement finishing. Mark the basement floor where you want walls located based on your planned layout. Then measure and cut studs to length. Nail top and bottom plates to the ends of studs and stand them up, nailing into place. Place studs 16 inches apart and nail them to plates. Attach horizontal blocking between studs for stability. Consult building codes for proper framing methods. Ensure new walls are square and plumb.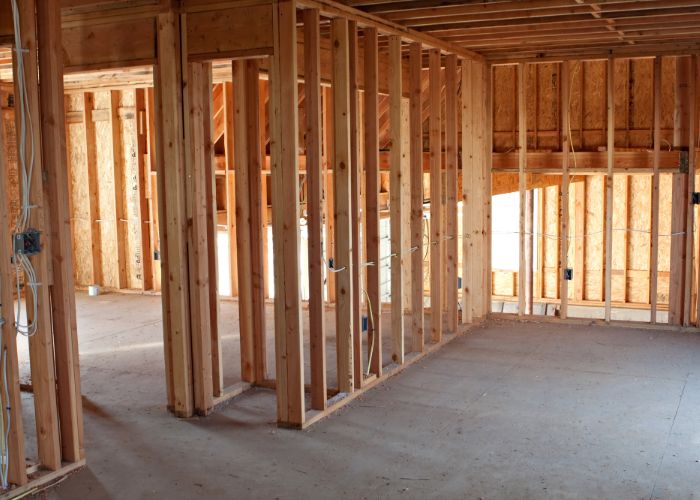 Add Insulation
Insulating basement walls is essential for energy efficiency, moisture control, and sound dampening. For framed walls, use fiberglass batt insulation between studs. Staple a vapor barrier over it facing into the room. For foundation walls, adhere rigid foam boards using concrete adhesive. Seal seams with caulk. Cover rigid foam with a fire-resistant material like drywall. An insulated basement stays more comfortable in any season.
Install Drywall
Drywall creates clean walls for finishing. Measure each wall and cut drywall panels to size using a utility knife and straightedge. Hold panels in place against studs and screw them into studs using a power drill. For curved basement walls, use flexible drywall. Install with the paper side facing out. Seal seams and screw holes with joint compound. Apply joint tape over seams and smooth compound with a putty knife. Once dry—prime and paint for finished walls.
Add Interior Doors
Doors define rooms and allow privacy. Measure openings and purchase pre-hung interior doors sized accordingly. Set each door unit in place and ensure it's level and plumb—secure hinges to framing with screws. Install handles and locksets according to manufacturer instructions. Use shims as needed to adjust to the proper fit within openings. Finish with door trim like baseboards and molding for a polished look.
Install Flooring
Flooring pulls your finished basement together. For below-grade concrete slab floors, snap chalk lines and roll on concrete sealer to prep. Luxury vinyl plank flooring is inexpensive and easy to install right over concrete. Unroll underlayment first. Click planks together without glue or nails. For carpet, install tack strips, then stretch and staple padding and carpet to tack strips. Use a carpet kicker for clean seams.
Create the Bathroom
A basement bathroom adds convenience and value. Plan its location near plumbing lines. Frame the space and ensure proper ventilation. Have a plumber update plumbing and install new fixtures—tile walls with moisture-resistant backer board and waterproof grout. Use vinyl plank flooring for durability. Install a vanity, toilet, and tub/shower unit. Don't forget the bathroom fan, towel bars, and toilet paper holder. Caulk all seams for water protection.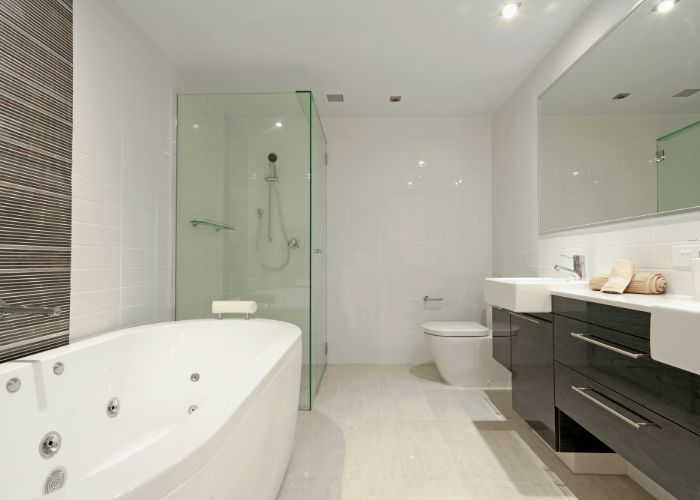 Update Lighting and Electricity
Proper lighting and adequate outlets make a basement functional. Consult an electrician if wiring the space from scratch. For finished basements, add recessed lights, track lighting, and pendant lights as needed. Make sure lights are LED for efficiency. Install electrical boxes, switches, and outlets according to code. Consider extras like a ceiling fan, home theater outlets, or a 220V outlet for large appliances. Updated electrical improves safety too.
Add HVAC Vents
Heating and cooling make a basement more livable. Extend ductwork from central HVAC systems to reach new basement rooms. Or install a ductless mini-split system just for the basement. Register vents along ceilings to circulate air. For baseboard heaters, run new 220V wiring and mount units against walls with brackets. Thermostats control the temperature. Insulate ducts to prevent condensation. With climate control, the basement stays warm in winter and cool in summer.
Build Closet Storage
Storage space adds functionality in a finished basement. Frame recessed areas into walls between studs for built-in closets. Install closet rods and shelves inside. Or construct freestanding closets from plywood. Install louvered bi-fold or sliding doors on tracks to access contents while keeping dust out. For general storage, use pegboards, shelving units, cabinets, and drawers. Built-in racks neatly organize sports gear or tools. Get creative, maximizing every bit of space.
Add Finishing Touches
Final touches elevate your DIY basement. Trim windows and doors for a polished look using boards and molding. Install baseboard molding where walls and floor meet—paint or stain trim to match décor. Hang curtains or blinds on windows. Consider details like crown molding, wainscoting, or ceiling beams. An area rug adds coziness over floors. Finally, decorate with light fixtures, furniture, artwork, plants, and accessories that reflect your personal style.
What're the Steps for Partially vs. Completely Unfinished Basements?
If your basement is already partially finished, some steps may be simpler than starting from scratch. Here's an overview of how the process differs:
For a partially unfinished basement:
Assess the existing finishes and layout to determine what to keep versus change

Build on top of and integrate with any existing framing, drywall, flooring, etc.

Update lighting

, electrical, and HVAC to extend into unfinished areas

Finish framing, insulating, drywall, and flooring only where needed

Focus most work on unfinished portions
For a completely unfinished basement:
Gut the entire space and start from the bare foundation

Complete full framing, insulation, drywall, flooring, etc., throughout

Fully wire for lighting, outlets, and any needed high-voltage electrical

Install HVAC systems to service the whole basement

Build any rooms, closets, and bathrooms fully from the ground up

Much more work, but allows for complete customization
The time and cost commitment varies widely between partial and full basement finishing projects. Evaluate your specific basement carefully when planning the steps ahead.
Finishing a Basement Yourself or Alongside a Contractor
When taking on a basement finishing project, an important decision is whether to complete all the work solo or partner with a professional contractor. Here are some things to consider about each approach:
Doing It Yourself:
Typically costs much less than hiring a contractor

Allows you to fully customize within your skill level

Learn new construction skills hands-on

Need to have sufficient time for a lengthy DIY project

Physically demanding work

Higher risk of mistakes as an amateur
Hiring a Contractor:
Gets work done much faster than DIY

No physical labor required of homeowner

Experts handle the entire project with fewer errors

Often costs $30,000+ for a contractor to finish an average basement

Less control over specifics like materials and layout

Easier to stay within code requirements
Many homeowners do a mix of DIY and hired help, for example, framing it themselves and bringing in pros for plumbing, HVAC, and electrical. Determine your budget, skills, and timeframe to decide what's best for your project.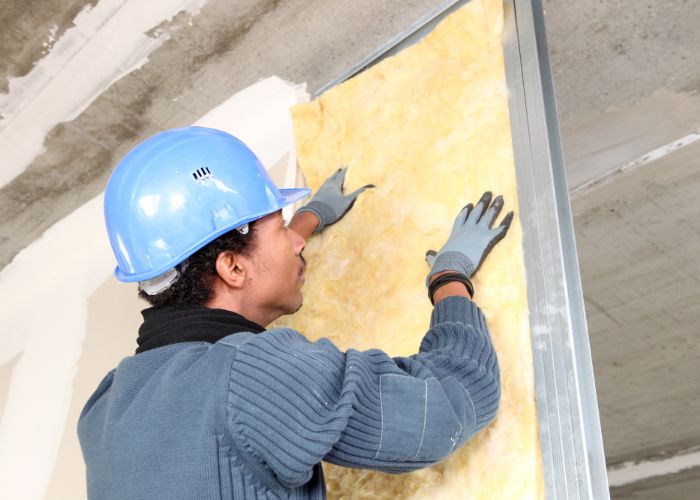 That's a Wrap
Finishing a basement takes time and hard work, but the payoff is a functional new living space tailored to your needs and preferences. With some strategic planning and DIY know-how, you can transform an unused basement into the perfect family room, guest suite, home office, gym, workshop, or more. Just take it step-by-step. Your customized basement oasis awaits!
About Kansas City Basement Remodeling
Did you know Kansas City Basement Remodeling has over ten years of on-the-job experience? The company is fully licensed, insured, and trained for the peace of mind of its customers. From full-scale basement remodels to partial ventures, there's no job too complex for our team to handle. Please contact us now by calling (816) 239-3439 and receiving a FREE design consultation and quote.
FAQs
In what order should I finish my basement?
When finishing your basement, it's best to do major structural work like framing and installing drywall first, then move on to utilities like electrical, plumbing, and HVAC before adding finishes like flooring, trim, and fixtures. Sticking to this ordered sequence of steps will help the project run smoothly and logically from start to finish.
How do you start the process of finishing a basement?
To kick off a basement finishing project, first, thoroughly assess the current basement space and develop a detailed layout plan for what rooms and features you want in the finished basement. Once you have a solid blueprint, create a step-by-step timeline of the order you'll complete all required tasks from demolitions to finishes.
What is the hardest part of finishing a basement?
One of the most difficult aspects of finishing a basement is the framing work, as precisely measuring, cutting, and assembling wall frames and ensuring they are perfectly square and plumb takes skill and patience. Additionally, installing utilities like HVAC ductwork, plumbing, and electrical in a basement's tight spaces can prove challenging, especially for DIYers without much construction experience.
What not to forget when finishing a basement?
It's crucial not to forget waterproofing and proper drainage when finishing a basement, as moisture issues can lead to mold, mildew, and flooding if not addressed properly before finishing. Also, don't forget to research what permits are required for your basement project and obtain them from local building departments prior to starting work.
What time of year is best to finish a basement?
The summer months are generally the best time to take on a basement finishing project, as the warm, dry weather allows concrete and other materials to cure properly during construction. Avoid finishing a basement in winter or during rainy seasons, as excess cold and moisture can significantly slow progress and affect the quality of the finishes.