Finishing a basement is a great way to add valuable living space to your home without the high cost of an addition.
The big question is, "How to finish a basement cheap?" With some DIY skills and smart planning, you can transform your dingy basement into beautiful new rooms on a budget. Our best tips include planning ahead, doing some work yourself, choosing inexpensive materials, and adding options for letting in natural light.
Here are 9 tips for finishing your basement cheaply:
1. Plan Ahead and Set a Realistic Budget
Before you start demolition, make a plan for how you will use the space and create a realistic budget. Finishing a basement can range from $10,000-$50,000, depending on the finishes and complexity of the project. Be prepared for some surprises and budget contingencies along the way. Prioritize "must-haves" versus "nice-to-haves" to control costs. Some wonder if finishing a basement or add-on is cheaper. We feel that finishing the basement is a much more affordable option, especially when a strict budget is implemented.
2. How to Finish a Basement Cheap? Do As Much Work Yourself As Possible
DIY as much of the project as you can, only hiring pros when absolutely necessary. You can save thousands by doing demolition, framing, drywall, painting, trim work, flooring, and more yourself. Watch online tutorials to learn new skills. Focus pros on complicated work like plumbing, electrical, and HVAC.
3. Choose Inexpensive Finishes and Materials
One of the biggest opportunities to save money is through strategic finish material selection. With creativity and compromise, you can design an attractive, functional space using affordable finishes.
Laminate countertops offer a versatile, low-cost alternative to granite or quartz for basement kitchens and baths. Available in many colors and patterns, laminate resists scratches, stains, and moisture better than hardwood. For floors, use vinyl plank flooring, which mimics hardwood or tile, at a fraction of the cost. Quality vinyl stands up well to basement humidity and foot traffic.
Opt for paint-grade cabinets rather than expensive wood varieties. Choose in-stock options rather than custom cabinetry. Assembly is easier than building cabinets from scratch. Use recycled or composite sinks and hardware to trim costs further. Paint walls, trim, and doors yourself rather than selecting expensive pre-finished varieties.
Focus on function over form when choosing basement plumbing fixtures. Look for steel or acrylic utility sinks rather than pricier ceramic or stone. Choose small, corner sink basins. Install low-flow toilets and shower heads to save water and sewer costs. Select pedestal sinks instead of heavy vanities requiring extra framing and finish work.
Following a "form follows function" mantra allows you to finish a basement affordably and beautifully. Prioritize durable, low-maintenance finishes that stand up to basement conditions while staying within your budget. With savvy material selections, you can create simple, clean spaces family and friends will enjoy without breaking the bank.
4. Add Windows Strategically for Natural Light
Adding an egress window for natural light can make a basement feel bright and airy. But new windows are pricey. Only add windows where you need them, like in bedrooms or living areas. Use less expensive glass block windows for utility areas like storage or laundry rooms. Reflective paint and sconce lighting also "enhance" natural light cheaply.
5. Incorporate Prefabricated Elements
One key strategy for keeping basement finishing costs low is using prefabricated building components that can be installed quickly and cheaply. Taking a mix-and-match approach with prefab elements can shave thousands off your total remodeling budget.
Prefabricated shower and tub surrounds come in one-piece units ready to drop into place. Many manufacturers offer basic and upscale models at a fraction of the cost of custom ceramic tile installations. For stairways, pre-built stair kits with rails and balusters included are simpler and cheaper than framing stairs from scratch.
Look for opportunities to substitute factory-built materials for stick-built assemblies. Prefab countertops, backsplashes, window trim, closet systems, and even entire bathroom pods can simplify installation. Using drop ceilings with integrated lighting rather than drywall ceilings also saves on material and labor costs.
Incorporating prefabricated components in place of custom-built finishes is one of the smartest ways to control expenses and reduce construction timelines for a basement remodel. Taking a mix-and-match approach allows you to get the high-end looks you want affordably by creatively integrating budget-friendly prefab elements throughout your design.
6. Run Electrical/Plumbing Along Perimeter Walls
What is the cheapest way to finish basement walls? That's a common question. Running electrical wiring and plumbing inside interior walls adds to demolition, repair, and finishing costs. Keep mechanicals along the basement's perimeter as much as possible. Use surface mount wiring and plumbing to avoid expensive drywall repairs.
7. Embrace Open Ceilings for Budget-Friendly Style
When remodeling a basement on a tight budget, one money-saving tactic is to keep the ceilings open rather than installing dropped ceilings throughout the space. Leaving ductwork, pipes, and wiring exposed not only trims costs but can also create an industrial-chic aesthetic
Dropped ceilings require carefully laying out a gridwork to avoid plumbing, electrical and HVAC components. Drywall or tile ceilings must be meticulously cut around any overhead obstacles. Leaving the mechanical infrastructure exposed omits these time-consuming steps. You simply paint the ceiling joists and any conduits black or gray for an urban, loft-like look.
Exposed ceilings also provide flexibility if you need to access plumbing or wiring down the road. With drywall ceilings, simple changes mean extensive demolition and patching. Open ceilings allow easy access without damaging finishes. Just be sure to insulate any ductwork to prevent energy loss and noise transfer.
Rather than viewing exposed ceilings as an eyesore, embrace the industrial vibe as an affordable design choice. Minimal surface-mounted lighting and strategic color keep the space looking polished. You gain usable square footage and avoid headaches by leaving the structural elements bare bones.
8. Add Compact Kitchen/Bath Layouts
When finishing a basement on a budget, opting for small-scale kitchen and bath footprints saves substantially on material and labor costs compared to larger layouts. Careful space planning allows you to create functional, family-friendly spaces that feel open rather than cramped.
For compact yet complete kitchens, choose base cabinets with narrow dimensions and use rolling carts or open shelving for extra storage. Install portable or countertop microwaves and convection ovens along with two-burner cooktops to conserve precious inches. Slim refrigerators, freezers, and drawer dishwashers also save space.
In small basement baths, replace bulky tubs with roomy corner showers that offer built-in shelving. Select pedestal, wall-hung, or floating vanities to save floor space and avoid expensive cabinetry. Use pocket doors rather than swing doors if possible. Opt for low-profile toilets and sinks sized appropriately for the available footprint.
Creative storage solutions like wall-mounted cabinets, sliding organizers, and recessed cubbies keep kitchen and bath items accessible without consuming valuable square footage. Multi-function fixtures like shower/tub combos also maximize utility.
You can design basement spaces that feel open and inviting rather than cramped by getting creative with compact footprints. Focus on quality over quantity by selecting scaled-down yet durable finishes. Your basement remodel will provide all the essential functions homeowners need without the high price tag.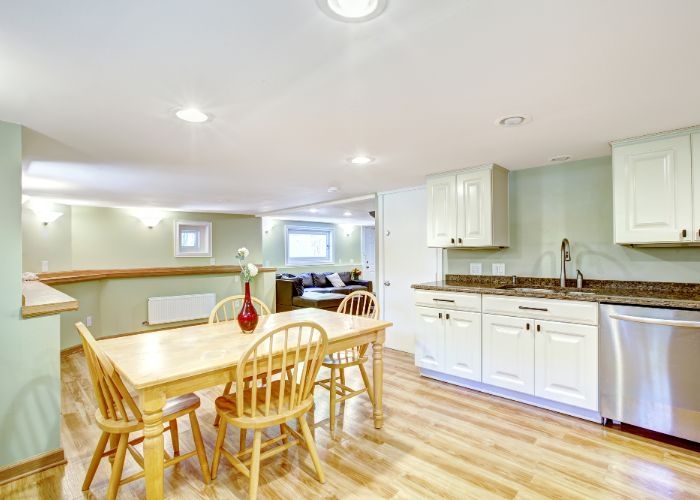 9. Omit Major Structural Changes
Modifying load-bearing walls, moving staircases, adding windows in foundation walls, or digging into dirt floors can require complex, expensive construction work. Work within the existing structure as much as possible. Changing floorplans and electrical/plumbing systems also drive up costs substantially. Focus on cosmetic rather than structural changes.
In Closing…
Finishing a basement affordably requires strategic planning, budget-friendly material selections, and a willingness to put in sweat equity. Follow these tips to transform unused basement space into a valuable living area while keeping project costs under control. With some perseverance and creative problem-solving, you can create stylish, comfortable new rooms homeowners will enjoy for years to come.
Who is Kansas City Basement Remodeling?
Affordable, trendy basement and garage remodeling services are just a phone call away! Kansas City Basement Remodeling is a fully licensed, bonded, and insured business that works hard to give customers 100% satisfaction. The company only uses industry-leading products and materials backed by incredible warranties. To schedule a FREE design consultation, contact the team at (816) 239-3439.